The Plants @ Yours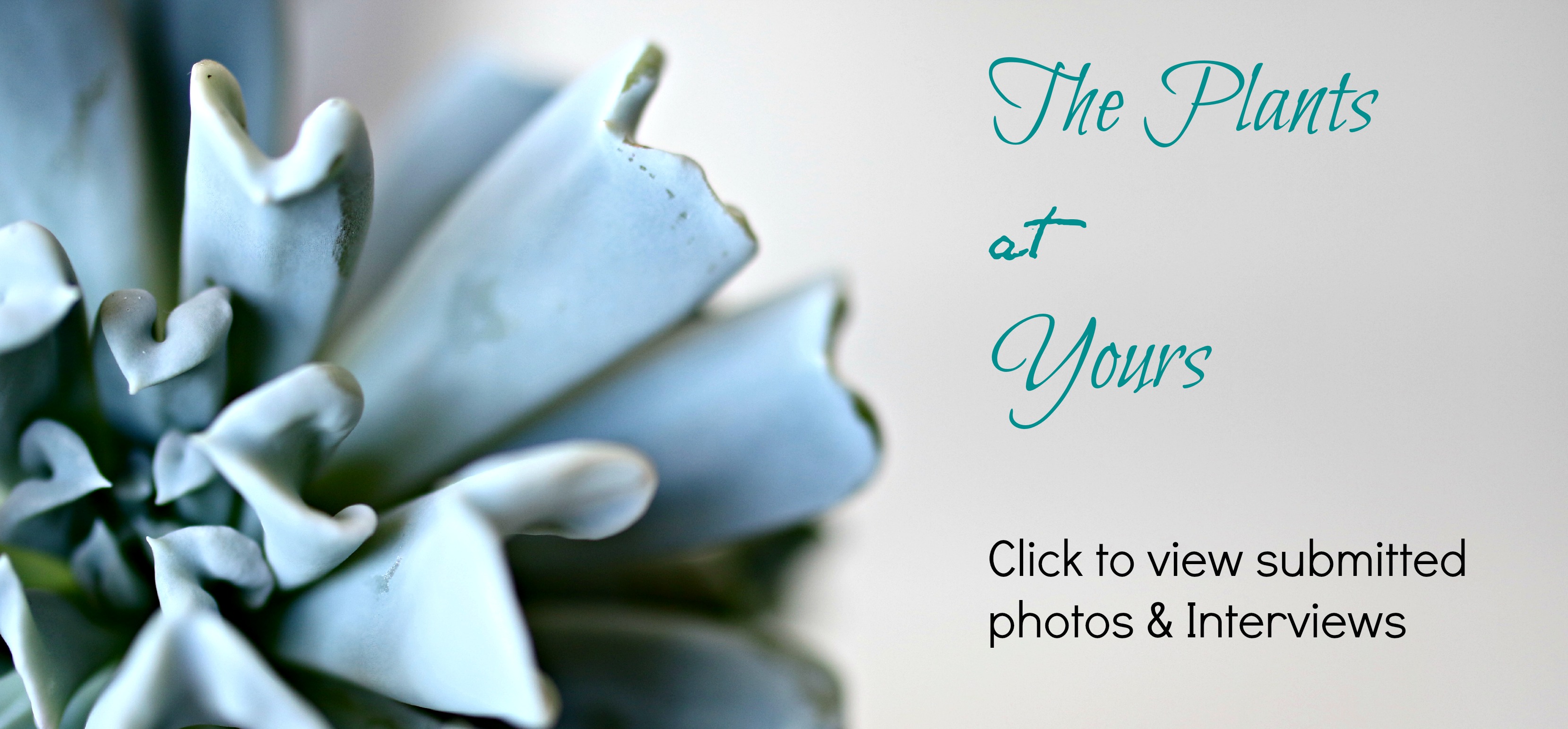 Ever since my green obsession, I notice plants everywhere – In people's homes, public places and even on TV!  I find myself also admiring people's window displays of their plants when passing by. A bit much? Maybe, but that is why I came up with the project "The Plants at Yours." This is a way to bring my love of plants, home interior decors and design, and meeting other plant lovers together. Why don't you join me in sharing the joy of plants!  Read below to learn more! You can also click the photo above to view submitted photos and interviews.
So what is The Plants at Yours all about?
A few times a month, I will write posts showcasing a reader's plant collection along with a short interview.  In order for this to work, I need submissions from you, plant lovers.
Ok, I'm Hooked. What Do You Need Me To Do?
This is what the submissions should have:
5 – 15 pictures of your plants. I was originally asking people to include a picture of themselves with their plants but after some feedback from readers, I have decided to make this optional in order to include those who are camera shy
Answer the following short questions:

Your name:
Occupation or if not applicable what you do during the day when not with your plants:
Where you live (City, Province/state, Country):
Number of plants you own (Really? Just an estimate if too many to count):
How long you have been into plants and how did you get introduced:
Where are your plants located in your home?
Name any benefits you get from your plants:
What kind of plants (genus, species or family) you like the most. Or maybe you like them all?
Can you share the biggest challenge you have had with your plants?
Can you share one mistake you made as an indoor gardener?
If your plants were to be taken from you and you could only keep one (can't bear the thought I know), which one would it be and why?
Best advice you can give about any aspect in taking care of plants.
OPTIONAL: If you have a blog/website/business/social media account,  include the URL so others can find you.
OPTIONAL: If you know the botanical name of your plants save the picture with the botanical name or you can include them in your email. For example, Picture 1. kalanchoe tomentosa, Pic 2. Kalanchoe blossfeldiana  etc. This way others who see your pictures and want to know more about the plants can do so.
OPTIONAL: Add your own stories to the pictures if you wish (i.e. in a word document) and I will include them under the plants you are talking about. Just remember to name and number the pics when you save it.
*I have been asked why I don't just put plant photos up without the interview. I have always been curious about the people behind plant photos. Who are they? What do they do? What got them into plants? My curiosity about the plant owners is the reason for including the interviews. I think it also adds a different dimension and more appreciation of the plants.
Please send pictures in jpg or png format. Zipping your pictures into one folder will make it easier to upload into your email.
Send submissions to info@greenobsessions.com or green.obsession.blog@gmail.com with the subject line "The Plants at Yours". 
You can also tag your photos #ThePlantsAtYours on Facebook, Instagram or Twitter for your chance to be featured.
If you have any questions or suggestions, email me at info@greenobsessions.com
See you soon at yours