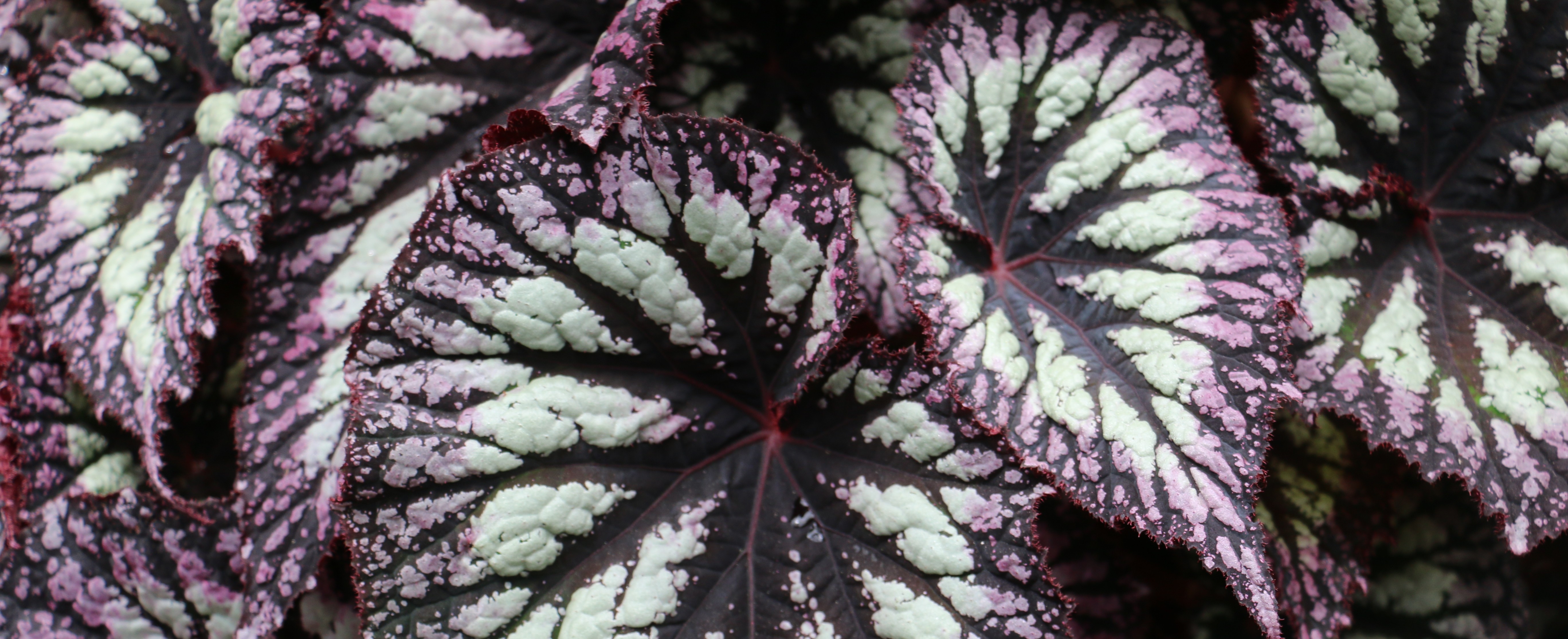 A few weeks ago I visited the greenhouse at the Montreal Botanical Garden which is part of Espace pour la vie, literally Space for Life. Espace  pour la vie is made up of a collection of different exhibitions of 'Life'. Besides the Botanical garden which has 10 greenhouses and over 30 thematic gardens, there is also a Biodome, an Insectarium and a Planetarium. I started my adventure in the gardens but when I realised I could not conquer the whole garden in the few hours I had left (it is huge), I took a detour to visit the greenhouses.  The greenhouses did not disappoint. There were so many topical plants some new and some old favourites (will share about that in another post). Among the plants was a genus that I had not really paid attention to before and frankly, I don't know why. There are so many varieties of them; tuberous, fibrous and rhizomatous begonias. Some shrub-like, hanging, climbing, others trailing. I'm talking about Begonias. There are 1500 different species and over 15,000 hybrids. Most begonias prefer shady positions making them great as indoor plants. Join me as a I take a second look at Begonias.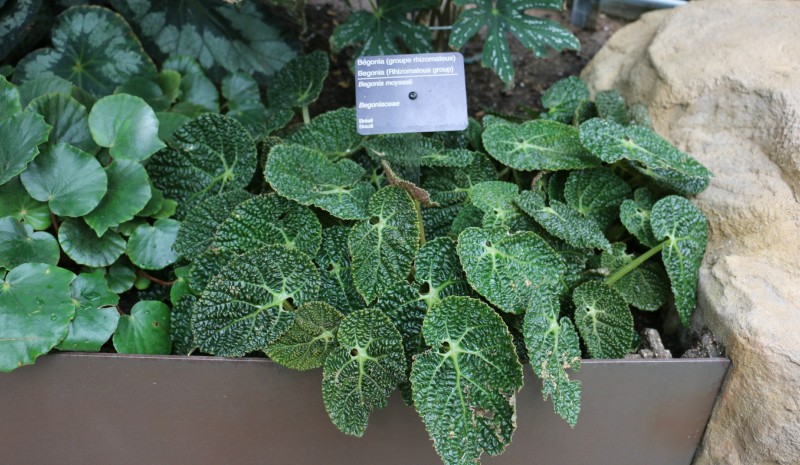 Begonia Moysesii aka Crinkled-leaf begonia owing to its wrinkled appearance. This Brazillian native has deeply veined pad-like leaves and red-tinged undersides. It grows in clumps with showy white flowers in the summer. It is a rhizomous begonia.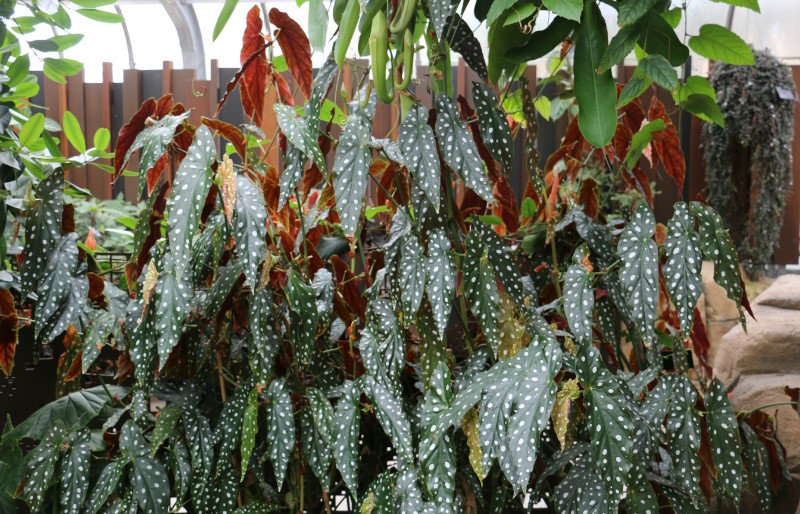 Begonia maculata var 'wightii' aka Polka dot begonia is of the cane-like type. The spots look like they are painted on up-close and make the leaves stand out.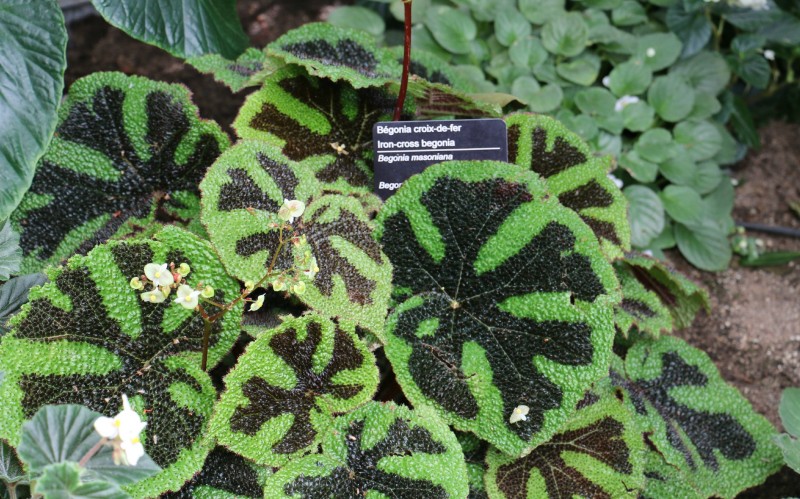 Begonia masoniana is also called iron-crossed begonia because of the pattern in the center of the leaf that looks the iron cross that were on shields and flags during the medieval Crusades. These species originate from Southeast Asia.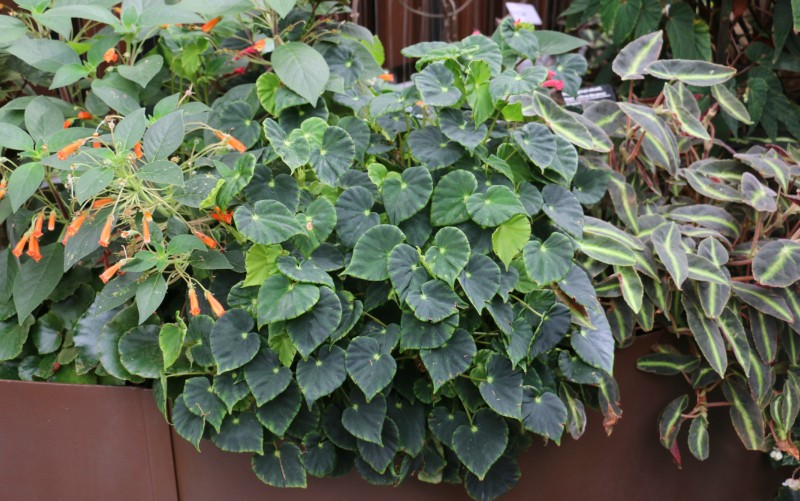 From left to right: Is the blooming plant on the left a begonia? Middle plant, B. mazae, and B. listada on right.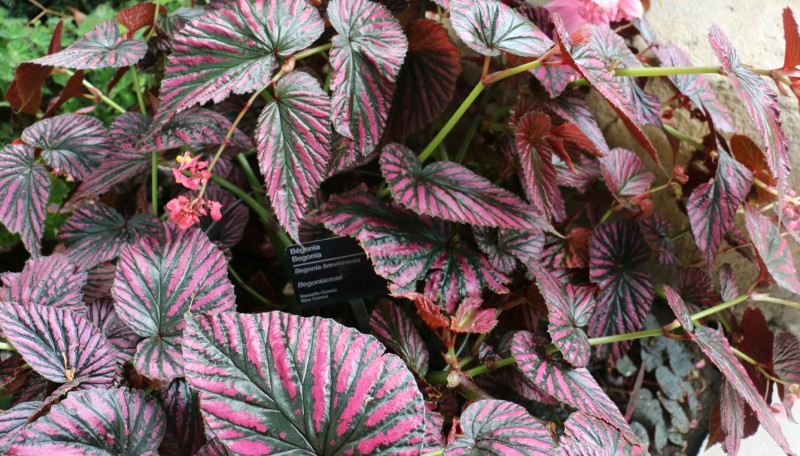 Begonia brevirimosa is a native of New Guinea with a shrub-like habit.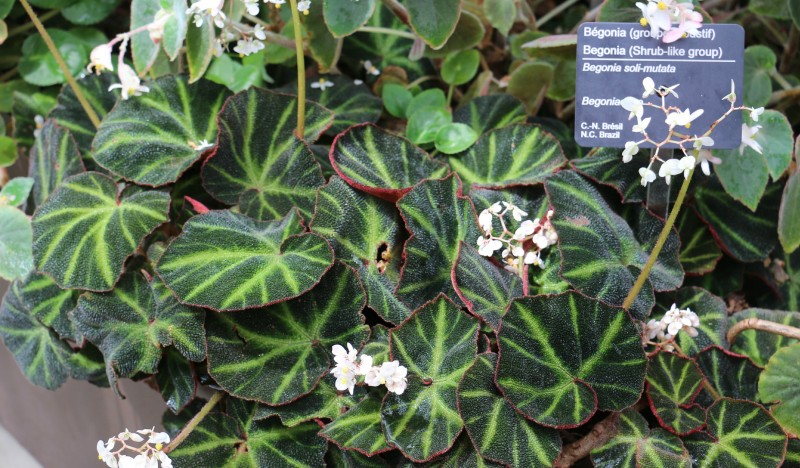 Begonia soli-mutata aka Sun Tan Begonia. This common name was given to it because the leaves apparently change colour depending on how much sun they recieve.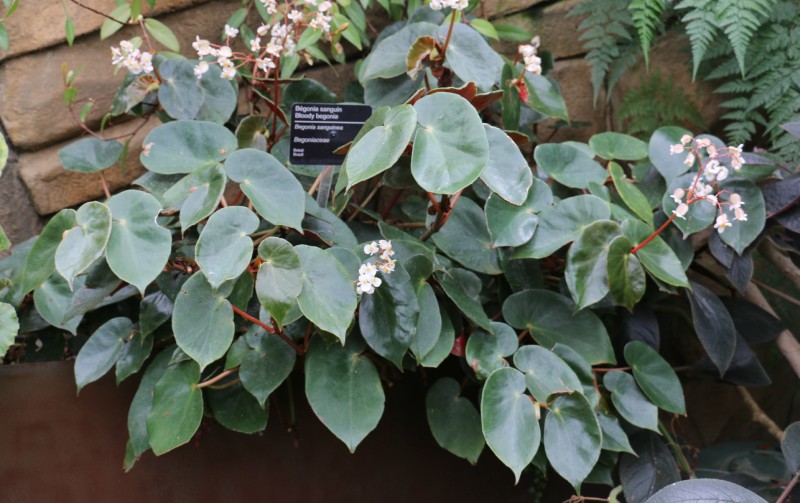 Begonia sanguinea aka Bloody begonia or Blood red begonia. I can't figure out why its a likened to 'sanguine' or 'blood' though. Could it be the red stems that look like arteries carrying blood?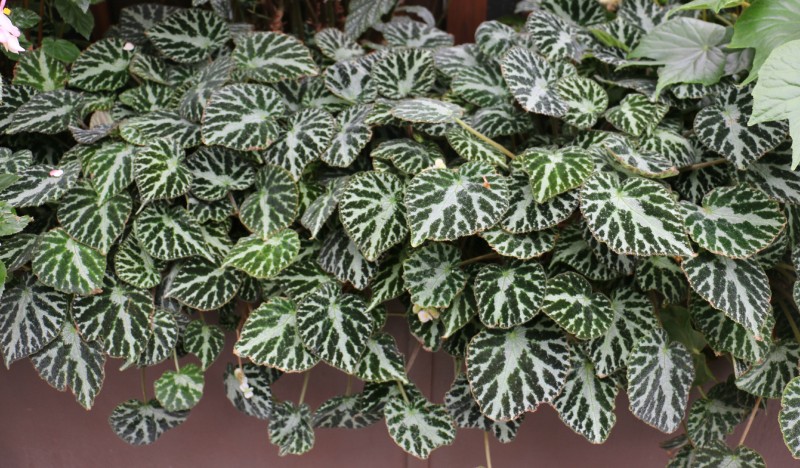 Begonia 'Green Jewel'. I find this one very attractive and would love to grow it.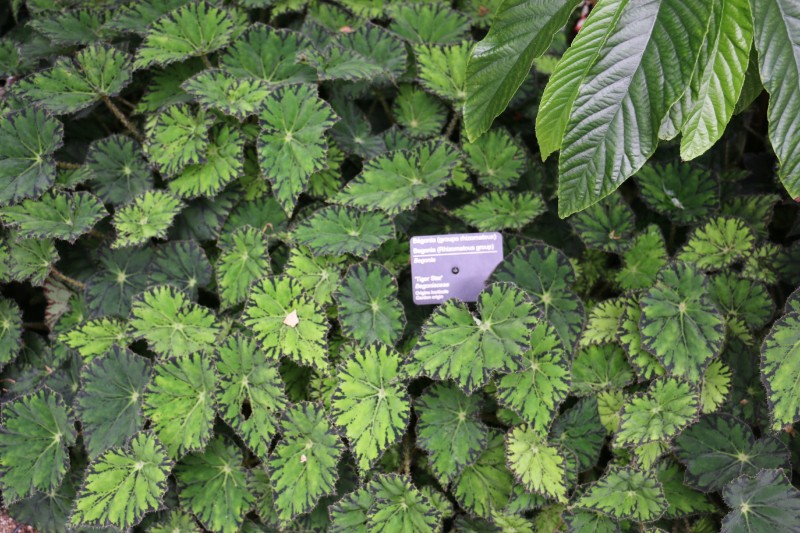 This one here is Begonia 'Tiger star'.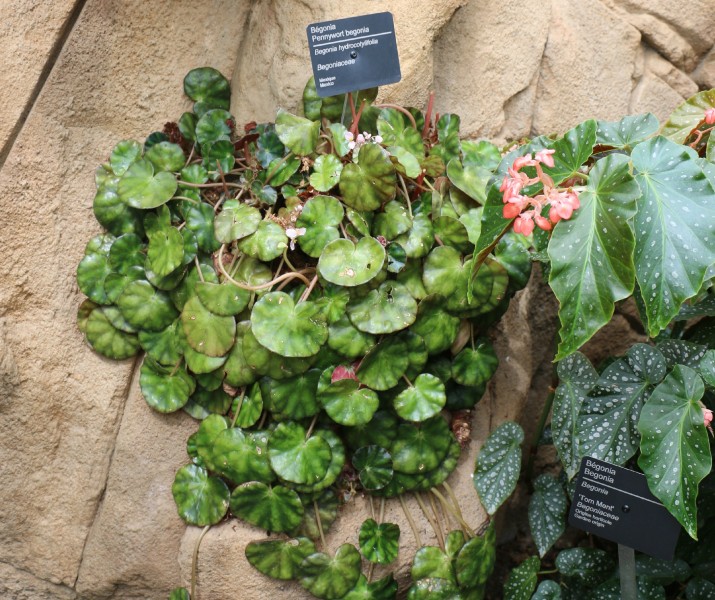 Begonia hydrocotylifolia aka Pennywort begonia. I find this the most interesting of all. Their thick succulent marbled leaves caught my attention immediately.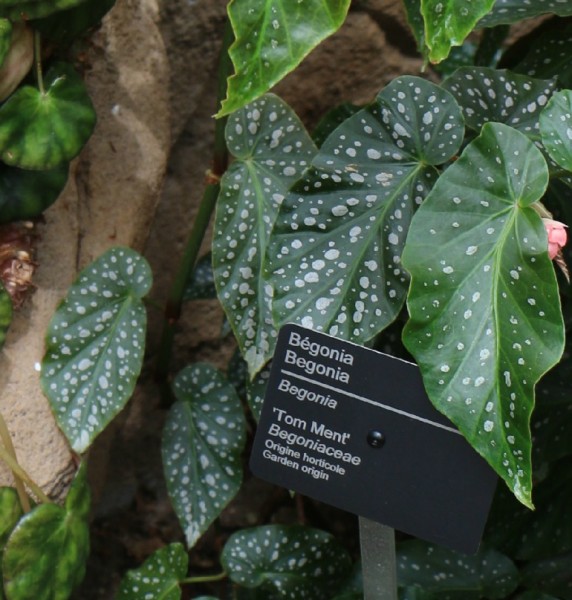 Another spotted begonia which looks similar to the cane-like Begonia maculata var 'wightii' shown earlier. You can tell the difference between them though in their leaf shape. This fibrous hybrid Begonia 'Tom Ment' does not appear as slender as B. maculata and lacks the red undersides.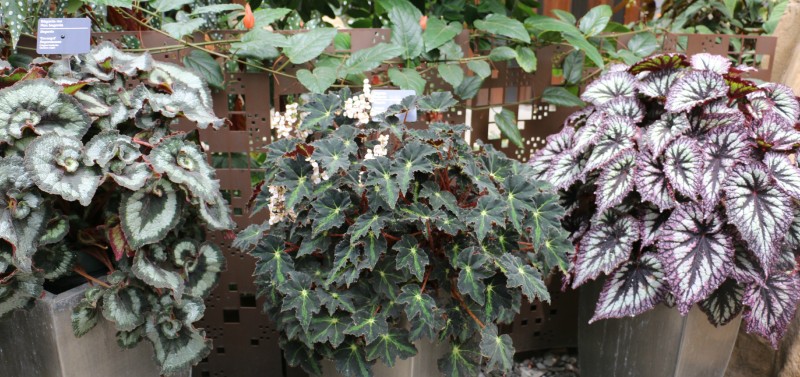 Here shown are the stunning Rex begonias. From left to right, B. escargot, B. 'Beatrice Haddrell' and B. 'fireworks'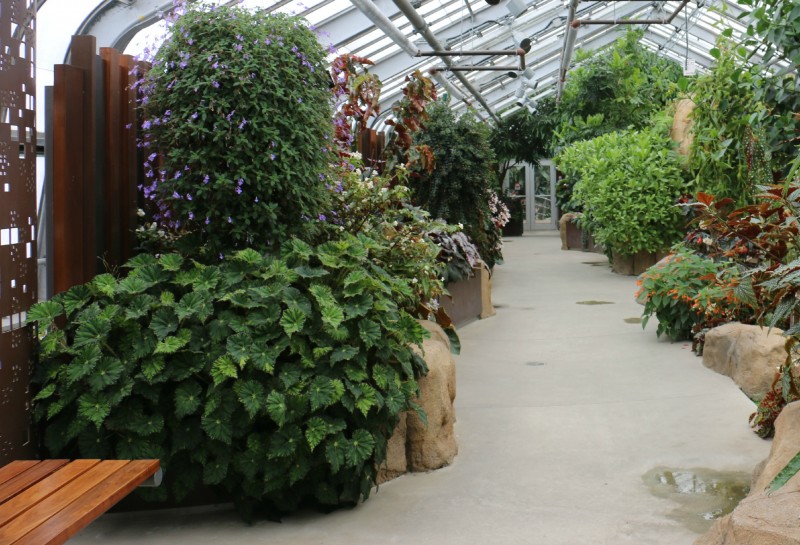 There were so many other species of Begonias in there I missed, but just these few I captured have piqued my interest. I don't know much about Begonias so I'm going to challenge myself to learn about them, and to see if I can grow one indoors. Wish me luck. I haven't picked out one yet so any tips on the easiest type to start with are welcome. They seem to grow quite big and so I may need to start with ones with smaller leaves.

Related
Barbara
Hi, I'm Barbara and I'm a little obsessed with house plants. I share my house plant adventures in the hopes of inspiring you to continue to enjoy the greens in your home. And if you have no plants (yet!) I hope this blog inspires you to add some green to your home. So go on! Try it! I think you might quite like it. And who knows? You may end up being … obsessed too.
Related