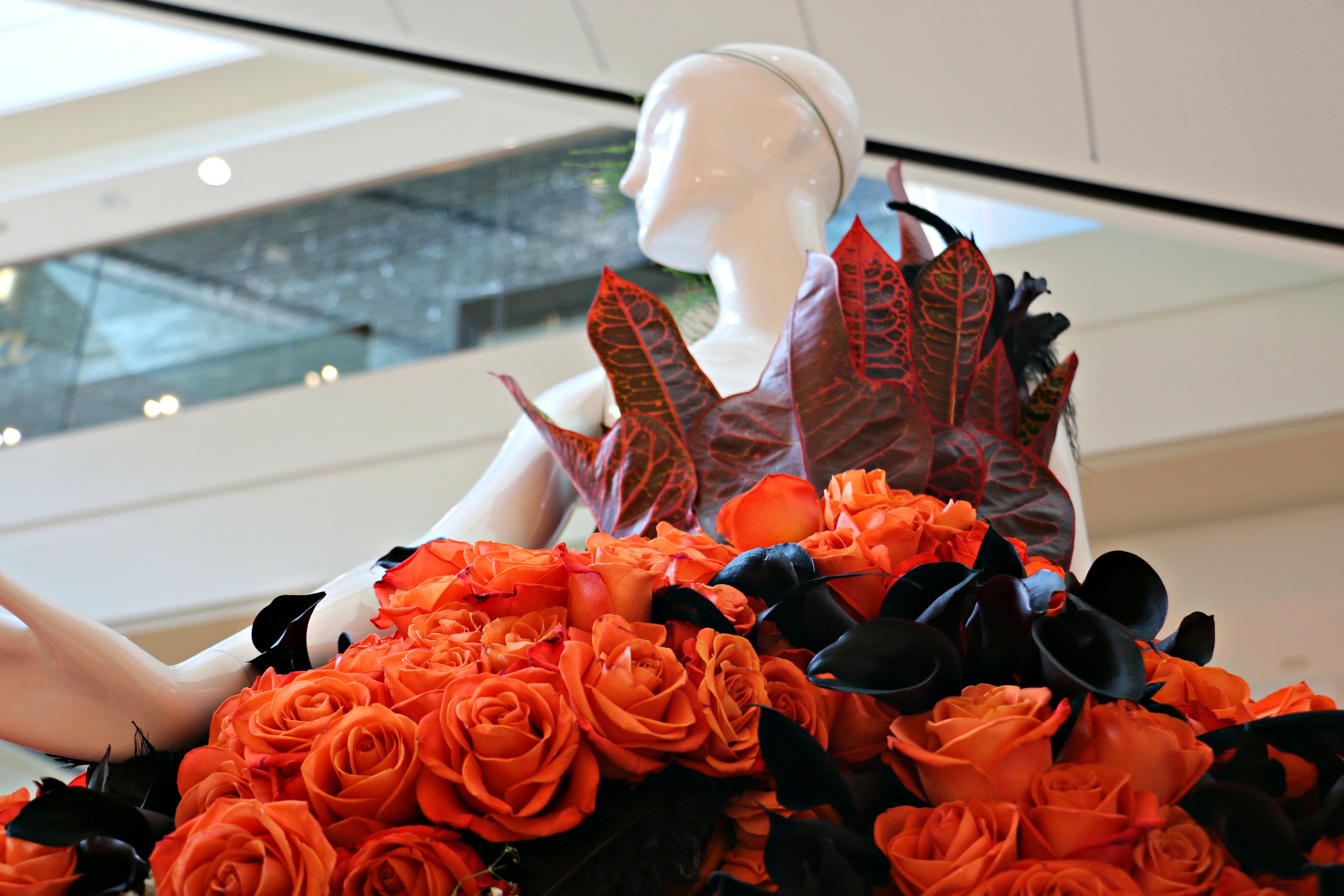 Don't you just love it when plants and flowers are arranged in a very unique or artful way? I do. That's why I was quite excited to learn that Fleurs De Villes (Flowers of the Cities) was happening at Bayshore mall (not so far from me) in Ottawa. I was really glad I went. There was so much beauty.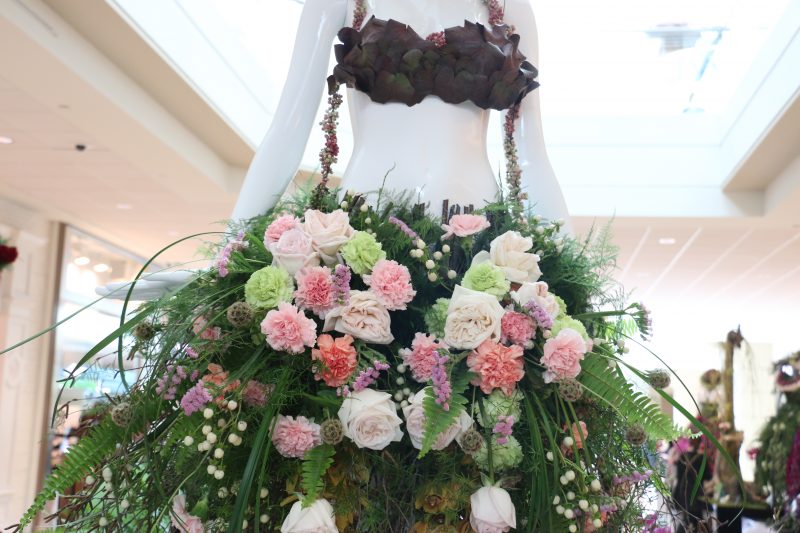 The Fleurs De Villes Mannequin series is basically high fashion meets botanicals. Local florists partner with  leading brand sponsors to create artful flower displays. A blurb regarding the inspiration behind each design is shared. People are encouraged to vote for their favourite display for a chance to win prizes. The event is on from now until May 7th, so lots of time to see it if you missed it today. Ok, now lets get on with the 'planty' goodness.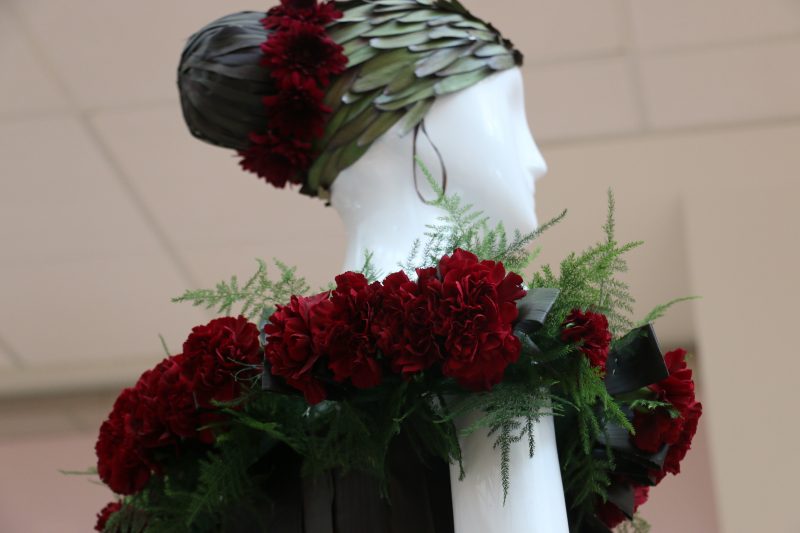 1.Ottawa Cancer Foundation Mannequin, Designed by Beaudry Flowers and Silk Greenhouse
Inspired by: "Representing the strength of a woman in her battle with breast cancer. With two shades of pink, assorted whites and a touch of green, this dress is created with Roses, Fuji Mums, Orchids, Wax Flowers and decorated with butterflies. In this design, we present to you a woman's hope, strength, determination and courage"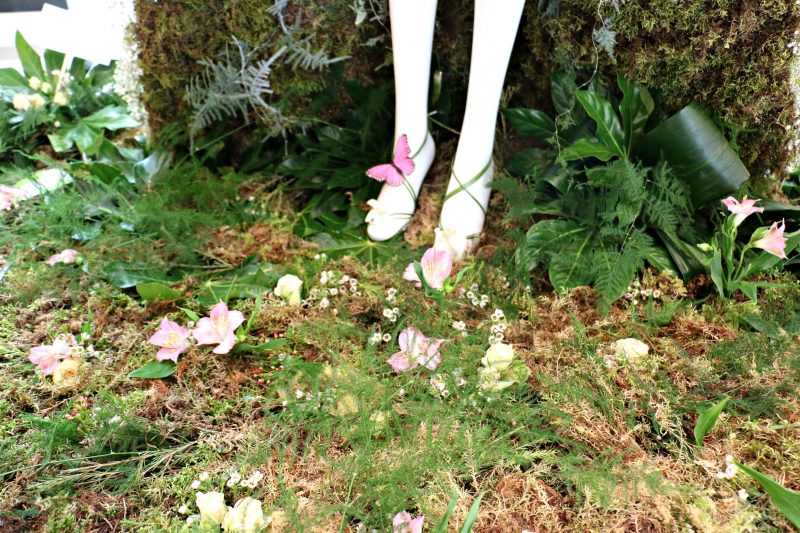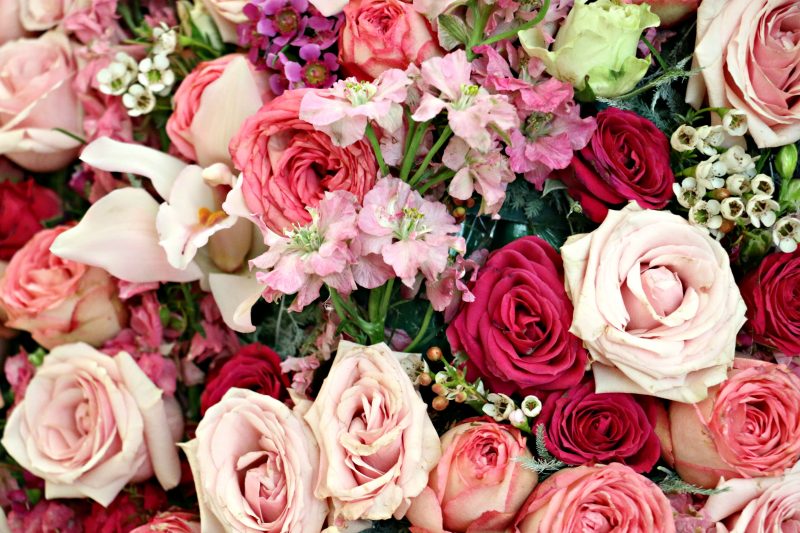 2. Brookstreet Hotel Mannequin, designed by Blumenstudio
Inspired by: "Fresh from the Spring 2017 high fashion runways our mannequin is dressed sheer, sexy and fabulous with accents of flowers. Full on Beyonce Style!"
3. Bayshore Shopping Centre Mannequin, Designed by Bayshore Flowers
Inspired by: "This vintage Dior is ready to wow at Fleurs De Villes. From the 1050's, this design comes to life with purple and blue stem-dyed roses, orchids, cymbidiums, gerberas and tropical greenery"
4. Weddingbells Magazine Mannequin, Designed by The Design Co.
Inspired by: "Soft, romantic and dramatic – just how every bride wants to feel in their dress on their wedding day. As a wedding floral company, creating a wedding dress from flowers is the ultimate challenge. We are answering that call with an array of all white blooms such as roses and orchids"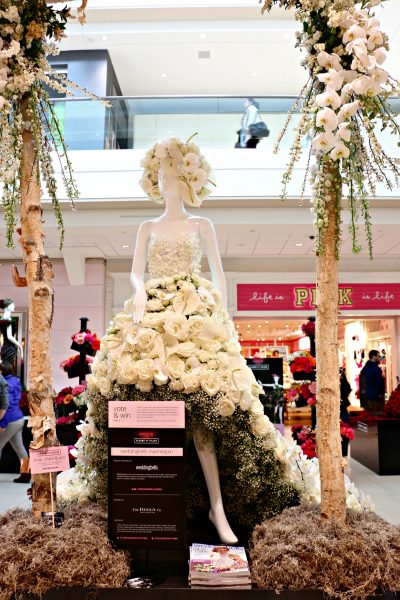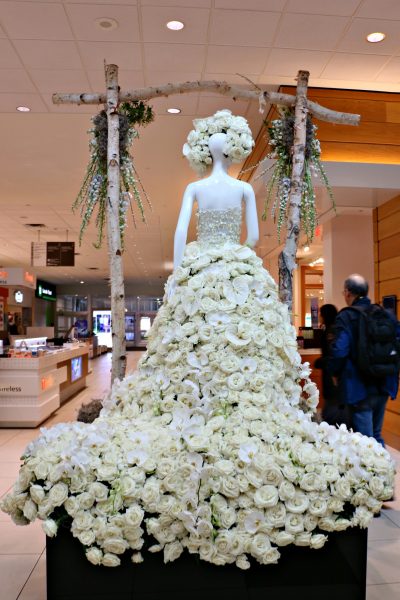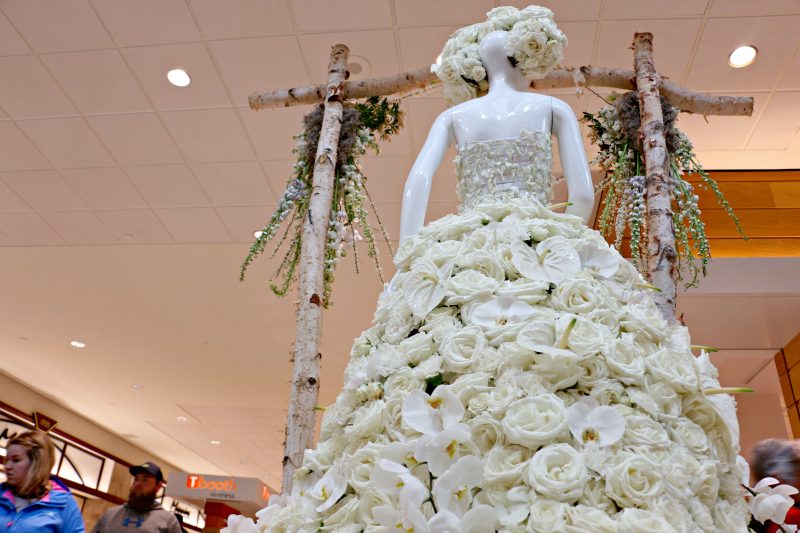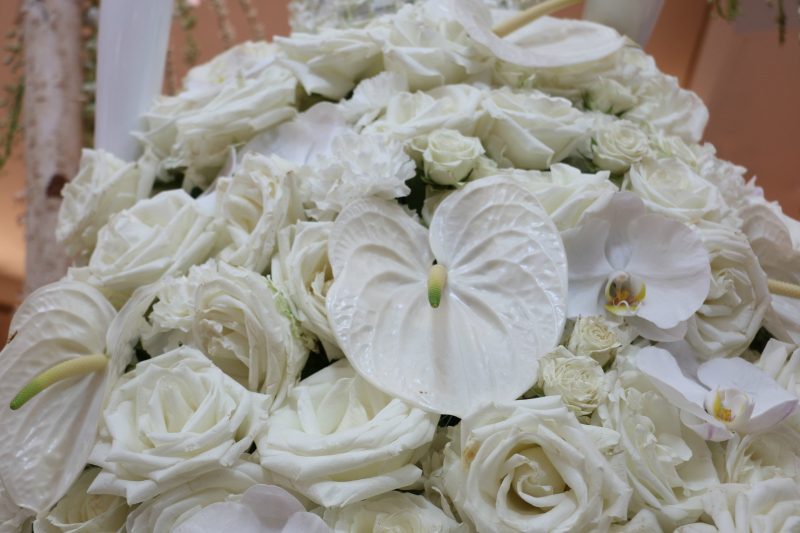 5. Metro Newspaper Mannequin, Designed by Flower Essence
Inspired by: "This ballerina is dancing through nature's garden. Created with orange roses, black calla lilies, black cordiline leacvs, croton leaves and black tulips." "No garden truly blooms until butterflies have danced upon it" – K. D'Angelo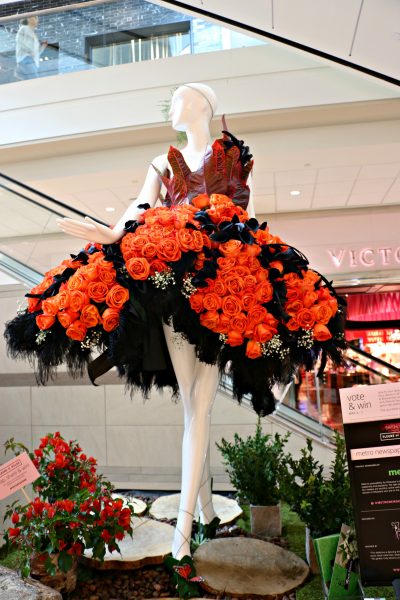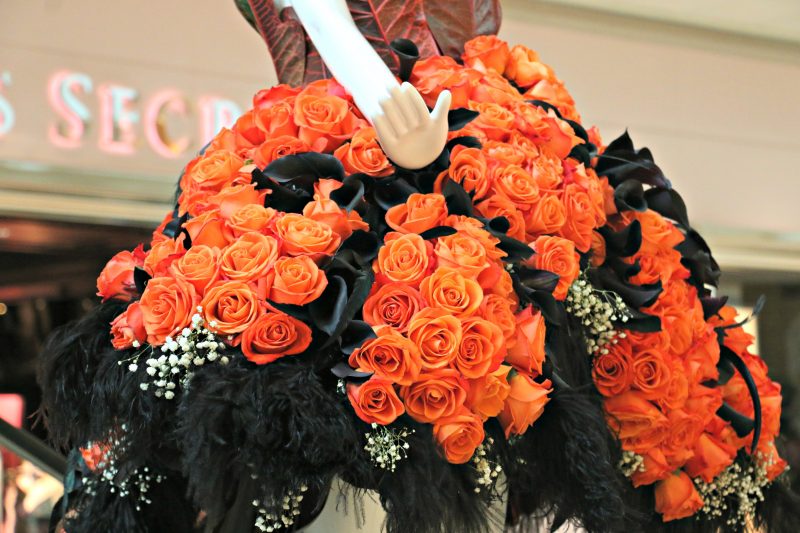 6. Saje Mannequin, Designed by Flower Essence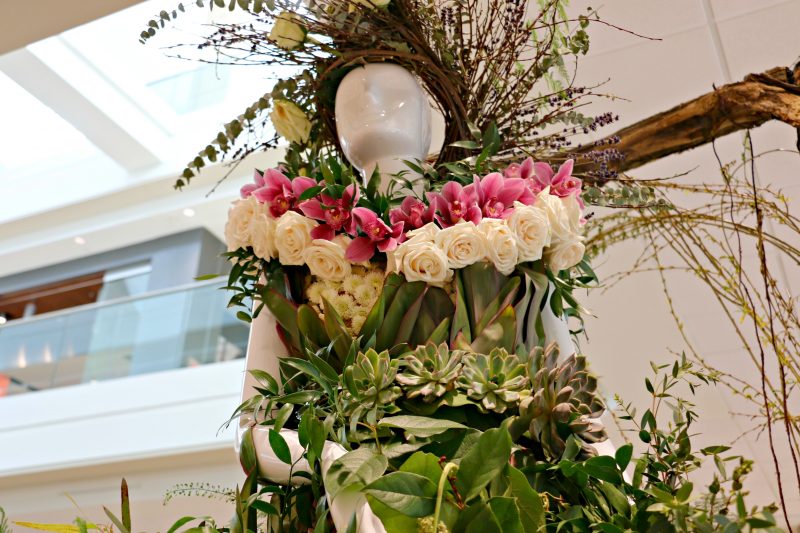 7. Efferve French lemonade Mannequin, Designed by FloweRainbow
Inspired by: "Sometimes you just want to look and feel like a real lady! In this case, a floral dress in shades of purple flowers creates something elegant and ladylike, the perfect evening gown!"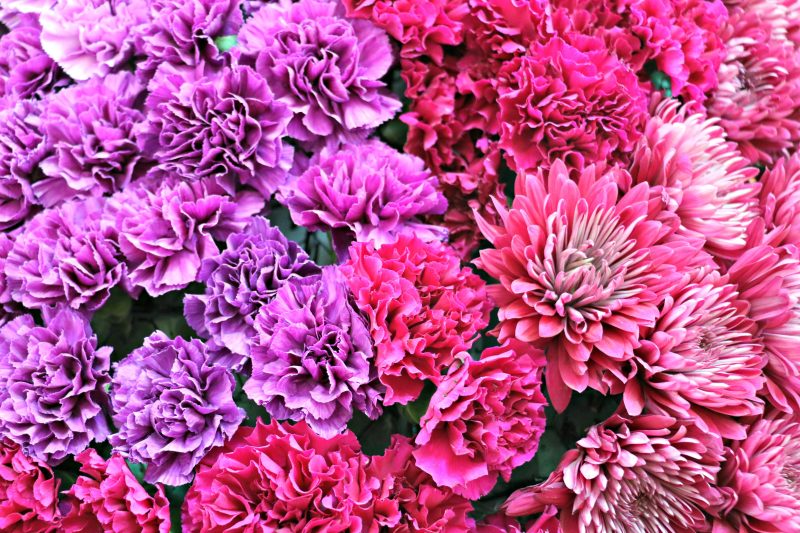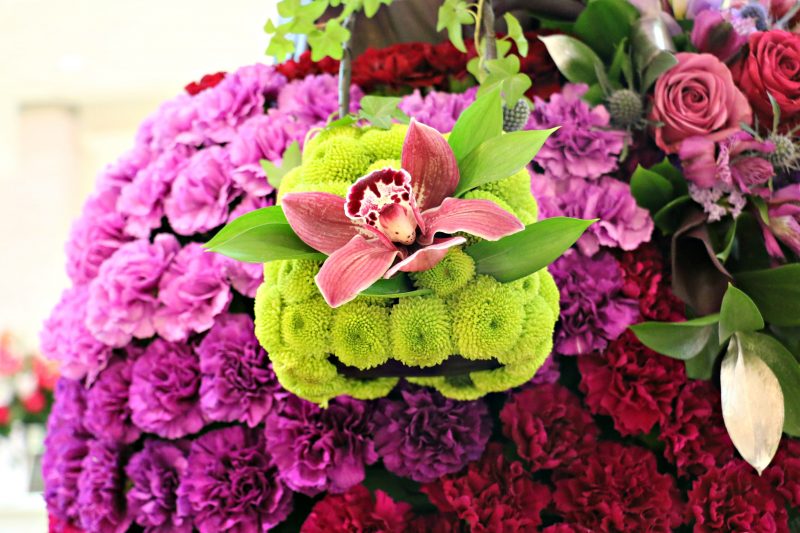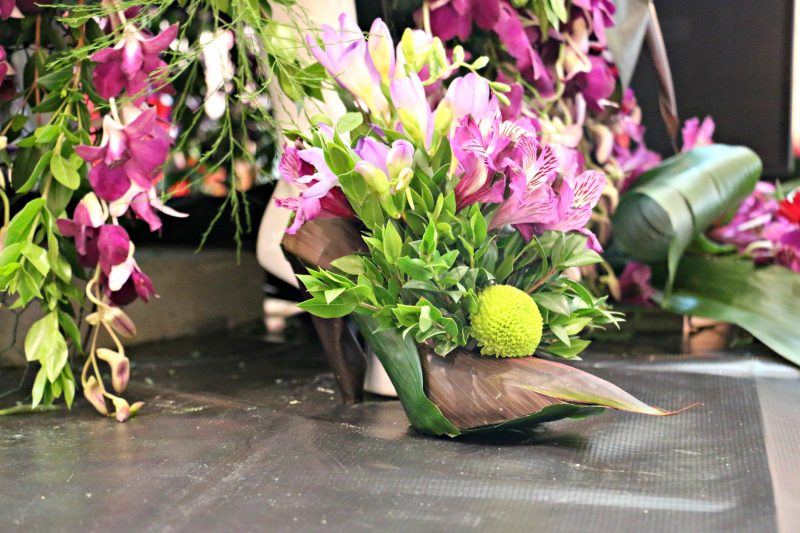 8.Tulip Festival Mannequin, Designed by Flowers Talk Tivoli
Inspired by: "Our lovely little woodland fairy is happiest among the ferns in the rainforest's canopy. Adorned with tulips, moss, succulents, and natural greenery, if you don't look closely, you might miss her true beauty."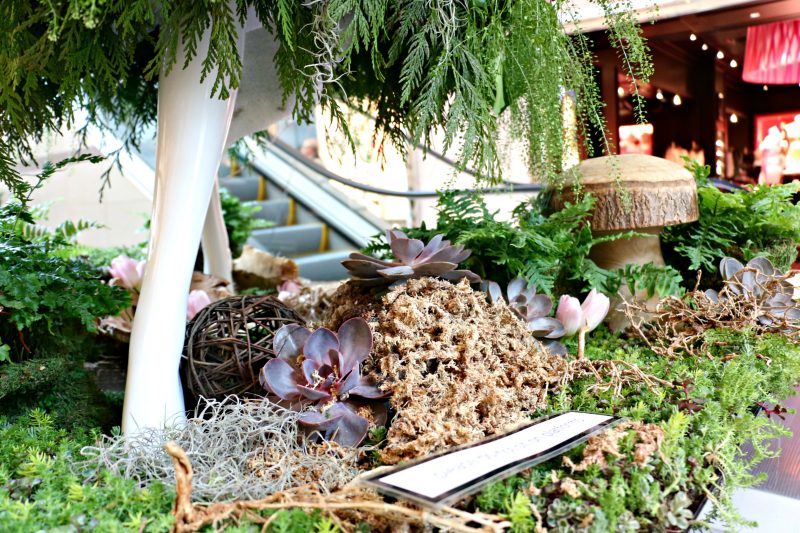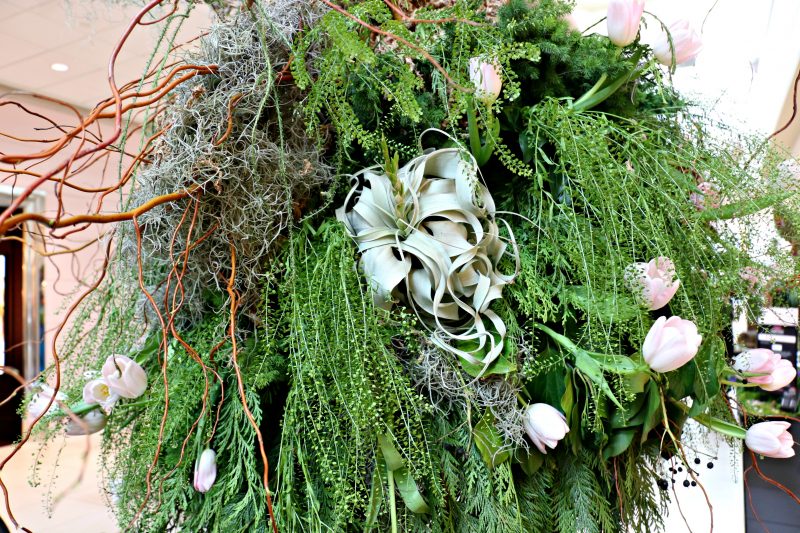 9.The Face Shop Mannequin, Designed by Harmony, Wedding and Event florals
Inspired by: "Dance where you're planted. Our garden nymph ballerina in her floral tutu adorned with roses and orchids joyfully dances under the stars on a carpet of mosses and delicate flower blooms."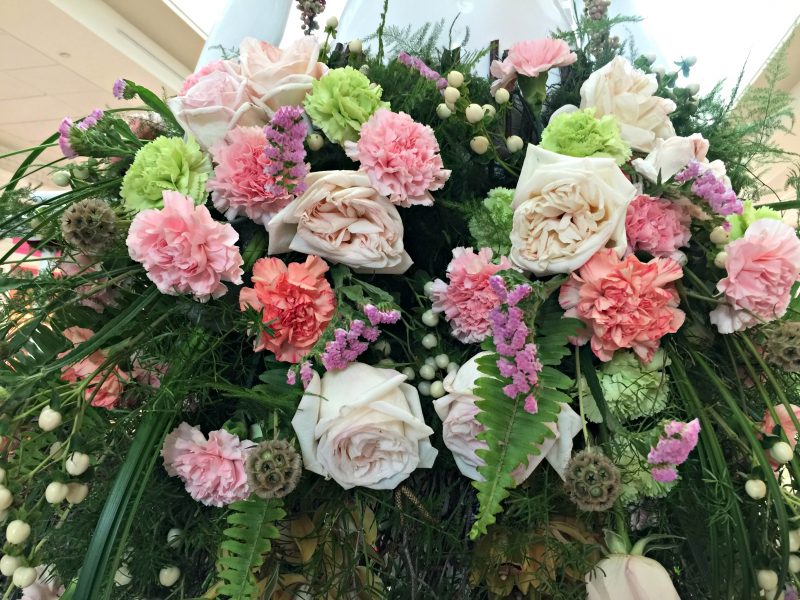 10. Au Naturel Spa Mannequin, Designed by Kelly's Flowers and Gift Boutique
Inspired by : "Kelly is a woodland fairy born and raised in stunning Ontario. Our design is a reflection of the woods she calls home. We have used florals and other botanicals such as, roses, fresh mosses, grapevines, bear grass and succulents. "
11.Fashion Magazine Mannequin, Designed by Ottawa Flowers
Inspired by : " This bridal gown is constructed with interwoven layers of aspidistra. Curled apidistra off one shoulder create that delicate ruffle detail. The train of the gown features a beautiful cascade of white orchids"
12. Chatters Hair Salon Mannequin, Designed by Pretty Pots Flower Shop
Inspired by: " This beautiful mannequin has just come in out of the forest. She is a very natural, simple beauty. Her over the shoulder dress with a high waist is floor length, incorporating butterflies, moss, lots of greenery and twigs…" (lost the rest of the description, sorry)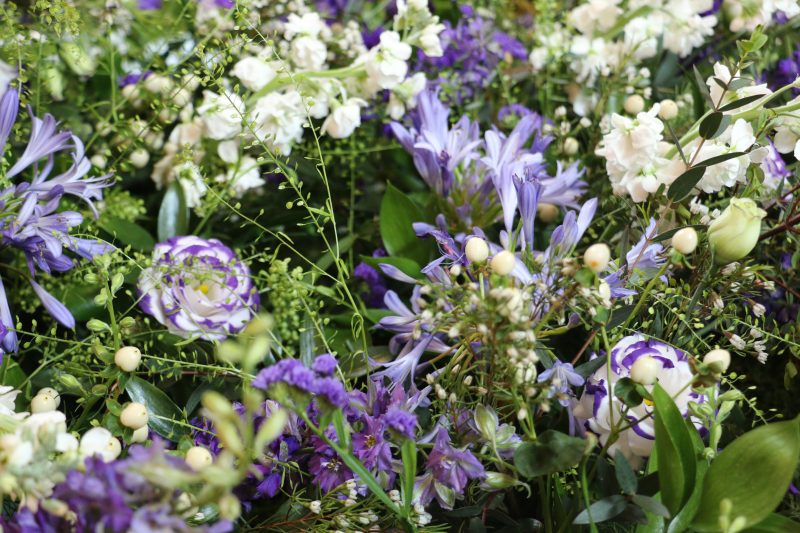 13. Hudson's Bay Mannequin, Designed by Sage Designs
Inspired by: " This vibrant red gown is designed as a tribute to Canada's 150th birthday. It is a piece which could eaily be worn by Canada's leading lady, the fahsion-forward Mrs. Sophie Gregoire- Trudeau. The design is composed of red ti leaves and arufled skirt of roses accented with a swooping red berry necklace."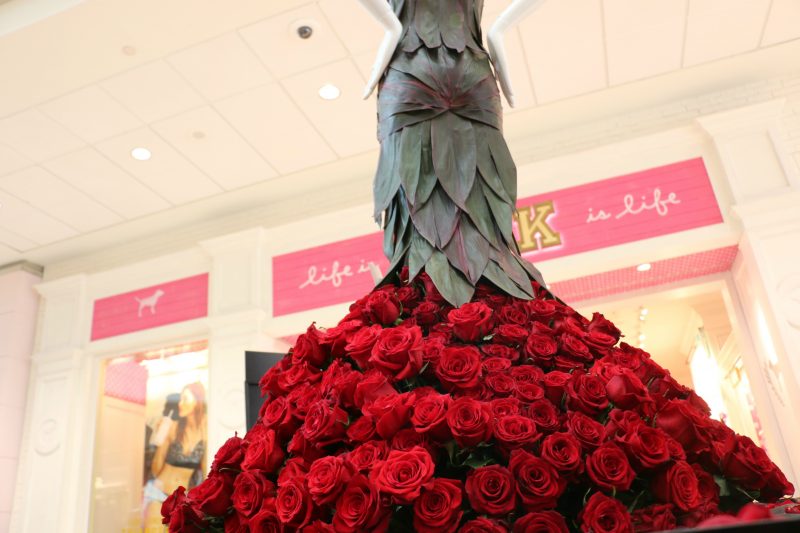 14. Crabtree and Evelyn Mannequin, Designed by Mill Street Florist.
Inspired by: "Imagine "classic" as defined by mother nature. This evening gown is inspired by the bounty of Canada's vast biodiversity, blended with blossoms of the Keukenhof Gardens. A true Mill street florist creation!"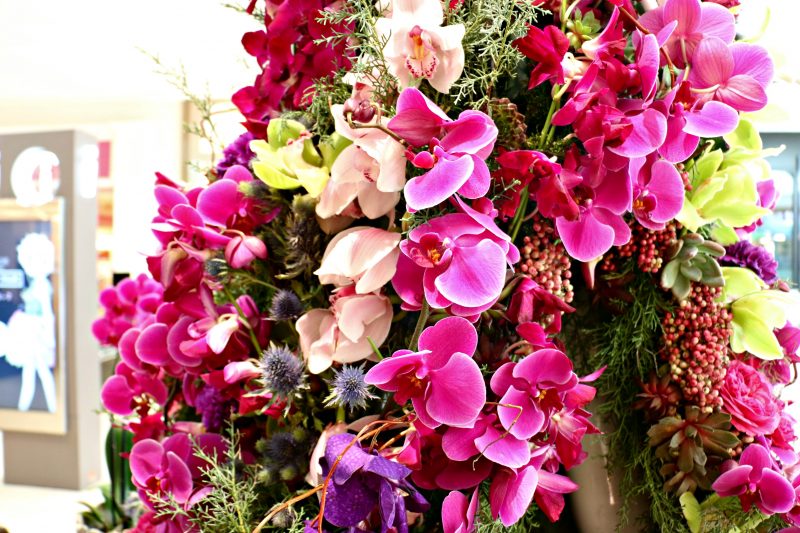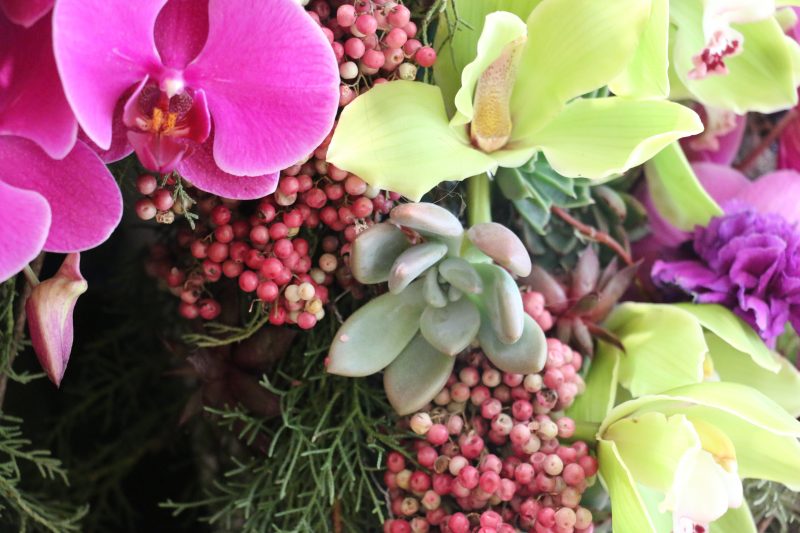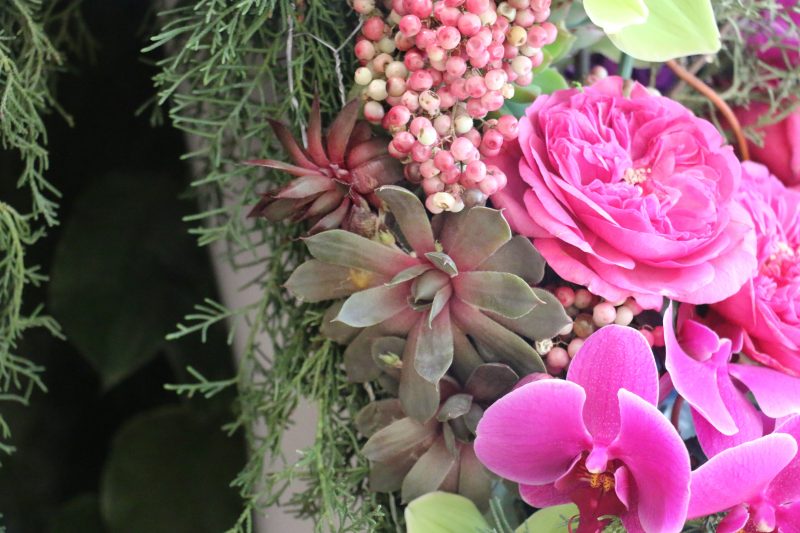 15. The Senators Foundation Mannequin, Designed by Trillium Floral Designs
Inspired by: "This Lovely Senorita's outfit is inspired by traditional flamenco-styled dress in red and black. Modernized with a geometric pattern using tropical ti leaves, the romance and boldness of her dress is enhanced using lush, deep red roses and carnations.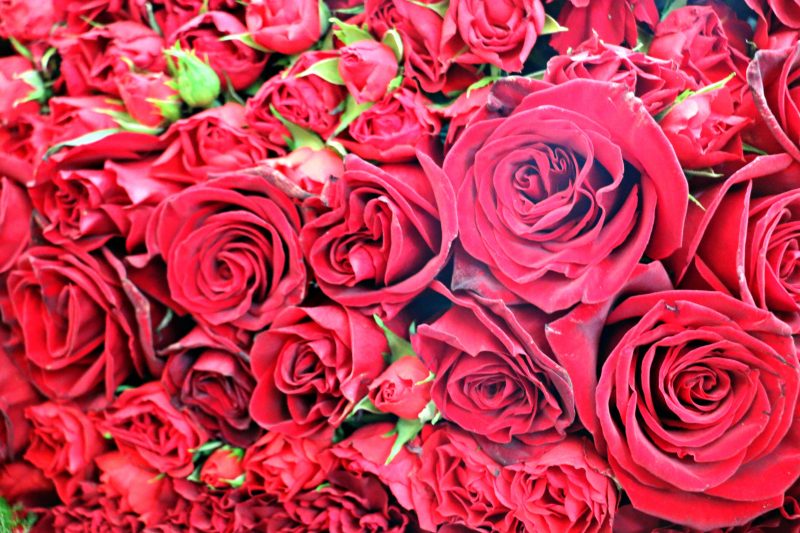 Wasn't that fun?
My top 5 were:
15: Absolutely stunning. Do you see those deep red roses??!!.
5 :Something about the orange and black combination appeals to me. And the dress is well designed.
2:I loved the simplicity of this desert inspired outfit. I fell in love with it right away and was very surprised Beyoncé was part of their inspiration. Didn't scream Queen B to me but, I can imagine her in this.
13: A close resemblance to 15. Love it for the same reasons, the deep rich red roses and flawless gown.
8: Love, love, love the lush look the ferns give to this outfit. And the tulips peaking out through the ferns adds another level of lush. I think it was also the only mannequin that had airplants in the design. And those branches in the wings …MWAH (Kissing fingers).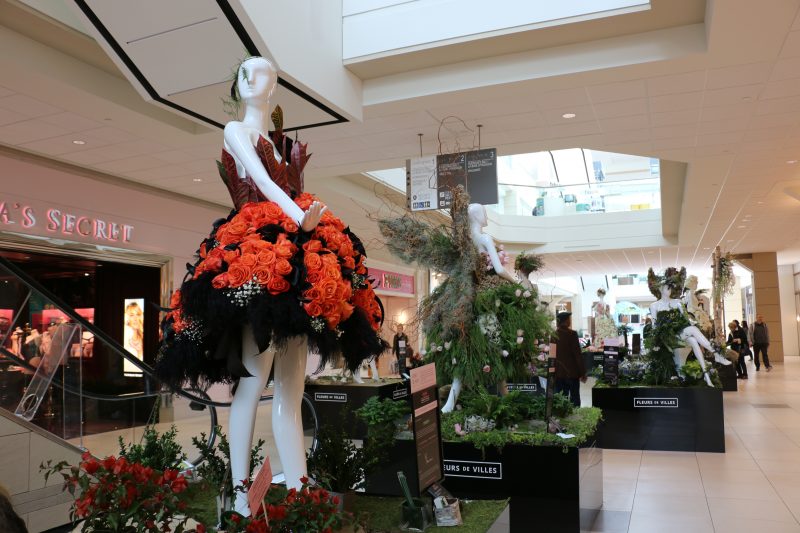 A beautiful display overall and well done to all the florists who painstakingly put these beautiful pieces together.
Which were your favourites and why? Comment below.
*On May 6th, there will be a day-long pop-up market for fresh-cut flowers, bouquets, plants, pots and other gardening supplies inside the shopping centre.  See you there!

Related
Barbara
Hi, I'm Barbara and I'm a little obsessed with house plants. I share my house plant adventures in the hopes of inspiring you to continue to enjoy the greens in your home. And if you have no plants (yet!) I hope this blog inspires you to add some green to your home. So go on! Try it! I think you might quite like it. And who knows? You may end up being … obsessed too.
Related