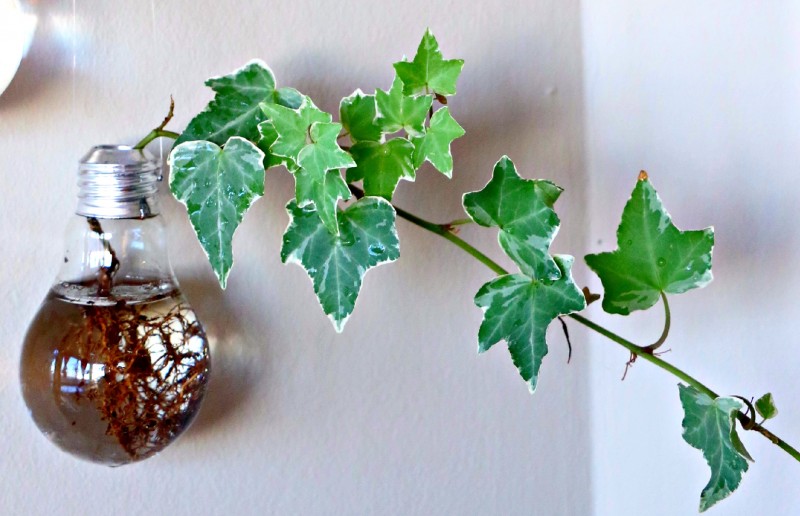 I have always wanted to try these light bulb planters ever since I saw one. Michael's actually carries a light bulb vase which would have easily served my purposes. However buying one is not as fulfilling as making one, so I opted to make my own.
Since we don't use incandescent light bulbs in our fixtures, I had to purchase them. I got 4 clear light bulbs for $2 at the dollar store. Great! I had the light bulbs. Now what? I searched a few websites on how to hollow out light bulbs. I found them quite confusing as what they were saying sometimes did not match the pictures. I therefore decided a video would be better. Just as I started watching a you tube "how-to" video, D asked me what I was watching. I told him what I wanted to do with the light bulbs and he was like "Oh, no problem. I can help you with that!"  He went ahead to tell me of how he used to hollow out burnt out light bulbs as a child and turn them into oil burners using kerosene and a wick. I was impressed. I quickly fetched the tools and we began working – He as the blue gloved hand at work and me as the director behind the camera.  I hope this step by step guide is detailed and easy enough to follow along.
What You Need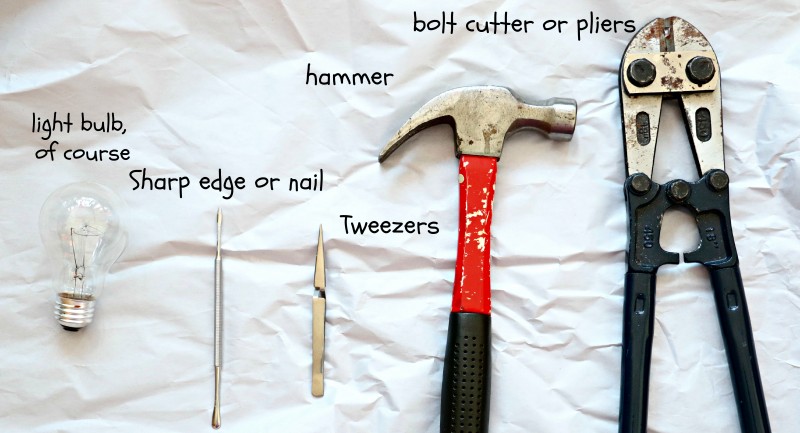 We used a bolt cutter because we couldn't find our pliers. It is bigger and a bit harder to handle but still gets the job done. Also, you can use a nail or screw driver in place of the sharp edge thingy  we used (sorry, don't know what it's called).
Step 1: Take the brass top off
Use the bolt cutter or pliers to pry the edge of the brass top off. Once you have the edges off you can easily pull the brass top off leaving a small hole.
Step 2: Take the black glass off  
The black part is actually glass. Take it off by breaking it. We used the sharp tool to break and scrape off the glass.  Pliers will also do in this case. You can also place the bulb on its side and lightly hit the side with a hammer. The glass shatters into tiny pieces and can land anywhere. Protect your eyes with protective eye wear. If you don't have one wearing sunglasses even will do.  At any time while working, try not to place pressure or squeeze the glass part of the bulb because it might end up breaking before you are even done. If you need to hold it tightly while working, hold the metal neck instead.
Step 3: Remove the fill tube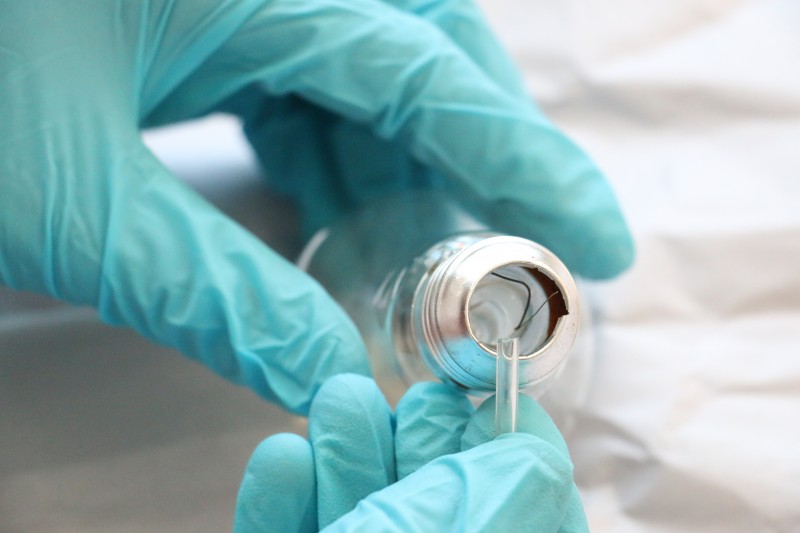 The fill tube is a hollow glass tube which you can break with your sharp edge or screw driver.
Step 4: Break the inner glass seal
Place the sharp edge or nail on the glass seal and hammer it just enough to break the glass seal. Once it is broken you can scrape off the extra glass until you have a nice big opening. Turn the bulb up side down and remove all the broken glass in the bulb. You will need tweezers to pull out the filament and guide it out of the opening.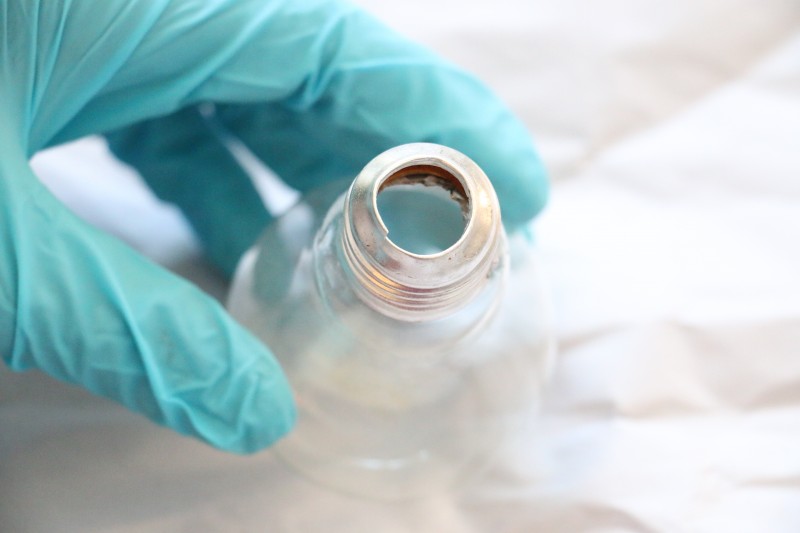 I used clear light bulbs so I didn't have to do the extra step of cleaning out the kaolin (that white powdery stuff in frosted bulbs).
Step 6: Rinse and drill holes 
If you are going to use the light bulb as a hanging planter like I did, then you will have to drill holes for the string. Once that is done, the light bulb planter is ready for use. Place plants in the bulb and hang. I used a spider plant which was gifted to me a few months ago. It has grown quite a bit since I got it. Up until now, I was growing it in a glass of water only as a trial as I have not done so with any of my plants. So far so good. The other plants are Ivies. I have not had a lot of luck with them. These were my second attempt. I bought the plant last year and divided them. I think it must have been how I divided them because they have not grown any new leaves since I got them. I was going to get rid of them to make room for new plants, but this way I get to enjoy them as they are even if they don't grow new leaves.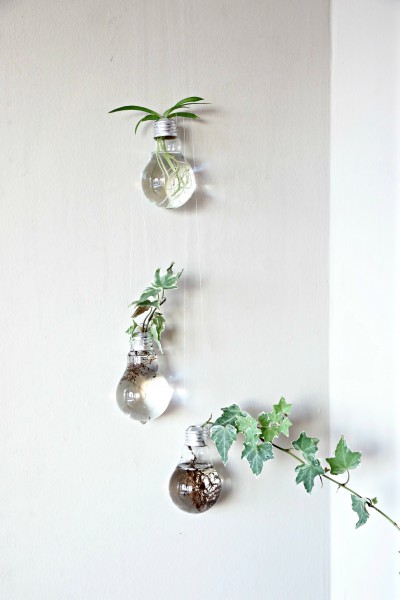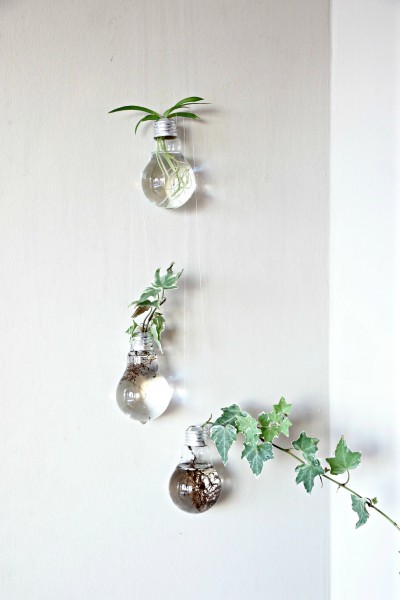 And that is it! I really love how they turned out. I have one more hollowed out light bulb which I think will end up being used as a moss terrarium. Have any of you tried this? Share pictures of the finished product below.

Related
Barbara
Hi, I'm Barbara and I'm a little obsessed with house plants. I share my house plant adventures in the hopes of inspiring you to continue to enjoy the greens in your home. And if you have no plants (yet!) I hope this blog inspires you to add some green to your home. So go on! Try it! I think you might quite like it. And who knows? You may end up being … obsessed too.
Related