I have a confession to make. I have killed every fern I ever owned. I put them on a tray full of water and pebbles as suggested but they just go crunchy and give up. I actually had a Hemionitis arifolia (heart-shaped fern) which was doing so well until one morning I saw all the leaves curled in! It clearly needed more water than I was giving and I probably should have paid more attention.
For those of you who have been fortunate enough to not see a wilted heart-shaped fern, there is a picture of how the leaves look like below. I cut off the leaves but left the rest of the plant intact in hopes that new leaves will grow. Will keep you posted.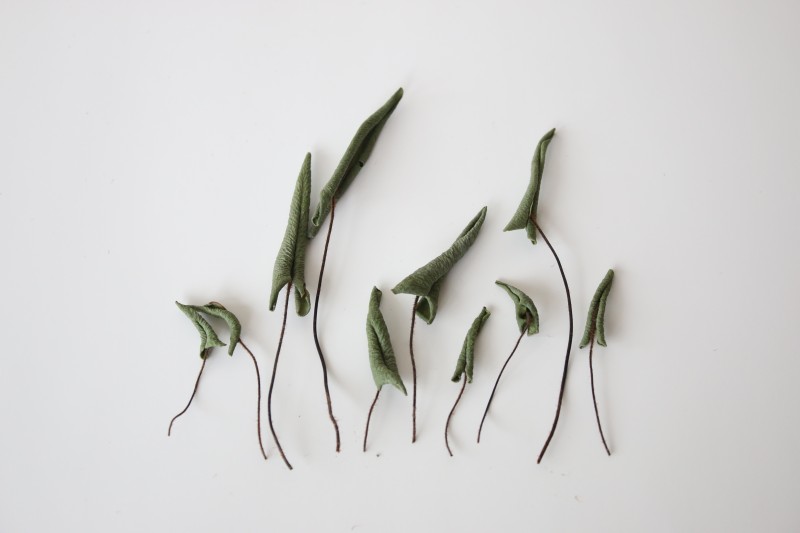 I am still determined to grow ferns. Since my home is on the dry side, I decided to up the humidity some more by housing my ferns in a terrarium-like environment. I found a mini indoor/outdoor greenhouse from Ikea and thought that would suit my purpose well.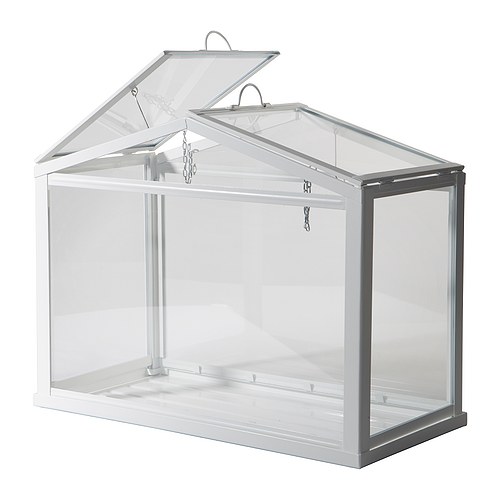 It is packaged as individual frames and very easy to assemble. I assembled mine in minutes. The roof opens up two ways and can be kept open if desired. I like that it is high and big enough to put a few plants in there. I even squeezed a Chamaedora elegans (aka Parlor palm or Neanthe bella Palm) in there.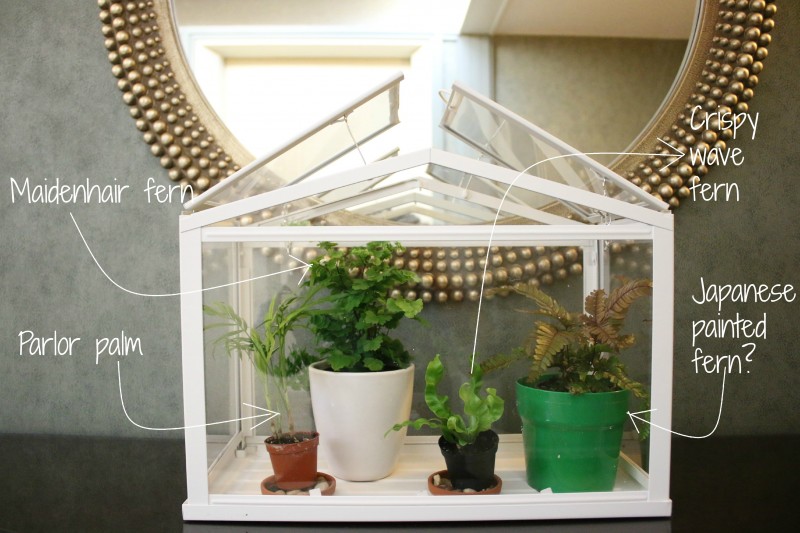 These plants can tolerate shade to bright indirect sunlight. Their soil should be kept moist but not soggy. Since these are high humidity-loving plants, placing them on a tray of pebbles and water will raise the humidity around the plants. As mentioned earlier, this did not seem to work for me so I'm hoping that putting them in this terrarium-like environment will do the trick. The Japanese fern and maidenhair in the decorative planters are also sitting on pebbles with a bit of water. The mini greenhouse is not air tight so while raising the humidity around the plants it will also hopefully keep mold growth at a minimum if not prevent it.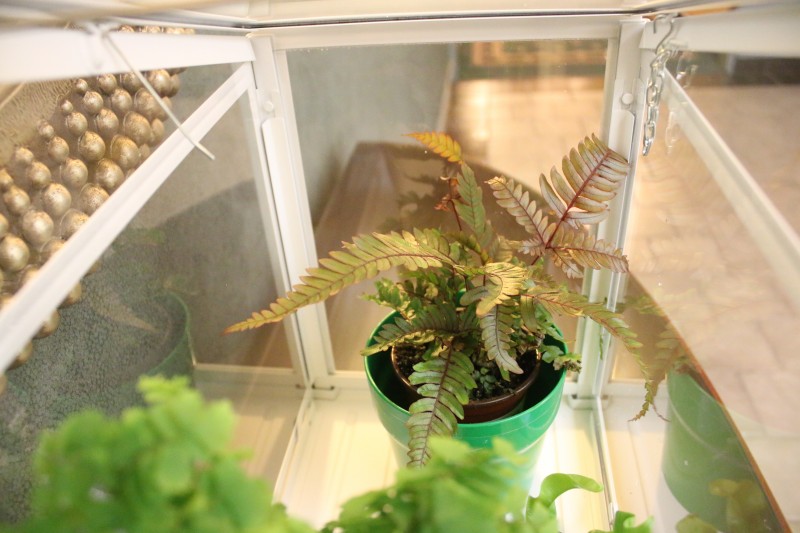 I love the red-tinged leaves on this fern. I'm not sure if this is really a Japanese painted fern (Athyrium niponicum) but that is the closest I came to identifying it. If you have the right ID on this fern please let me know in the comment section below.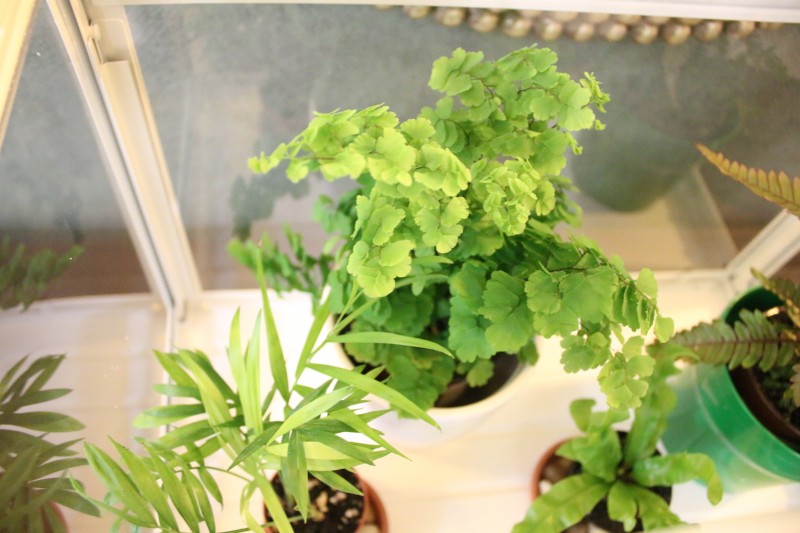 The maidenhair fern is my favourite, but a Diva of plants. It has such delicate fronds and I try to stay away from touching them too often as their pores can easily get clogged with oil from fingers. They crave attention and if you don't give them the Diva treatment, they will make you regret it. Most of all, they do not like being moved. I've killed a few so I would know. Once they are situated, let them be. They do not forgive easily when you move them. So once you have just the right conditions, never, ever, ever, ever change anything. I hope this greenhouse will do the trick. The maidenhair fern tops as the most pickiest of my plants. I used to think my Maranta plant,  Princess was picky but she has nothing on this maidenhair. Princess is actually very happy in her new hanging pot and needs very little attention from me these days. As long as I water her weekly and leave her alone. Now onto the mini Parlor palms. They will tolerate even low light than ferns from my experience. They grow where most plants would not. As long as you can see enough to read a book comfortably in a room, the parlor palm will grow there. I've used it successfully in terrariums in the past so I know it will do well in here too.

Related
Barbara
Hi, I'm Barbara and I'm a little obsessed with house plants. I share my house plant adventures in the hopes of inspiring you to continue to enjoy the greens in your home. And if you have no plants (yet!) I hope this blog inspires you to add some green to your home. So go on! Try it! I think you might quite like it. And who knows? You may end up being … obsessed too.
Related