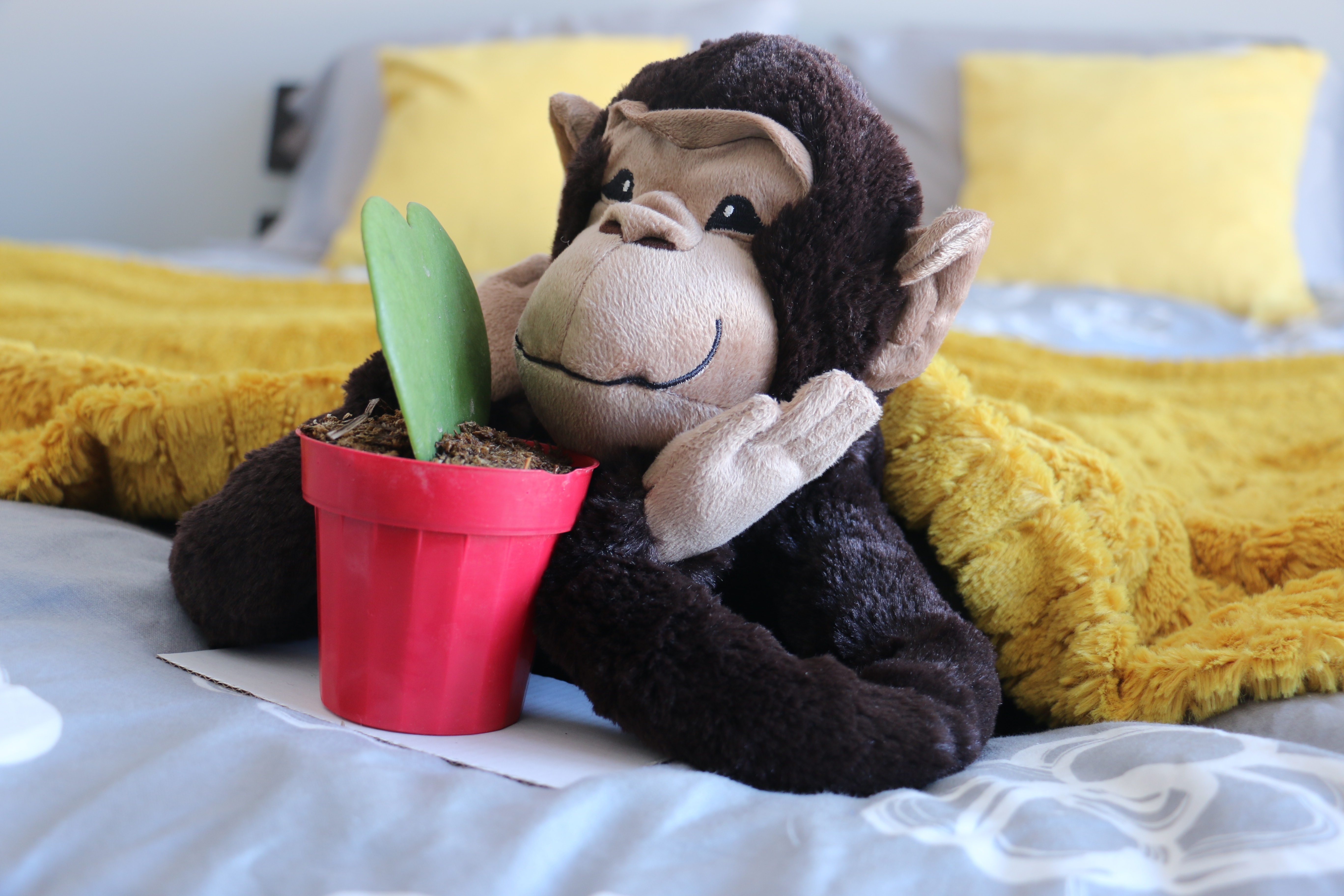 Happy Family Day to my fellow Ontarians!! Since yesterday was Valentine's day, I thought I would keep with the theme and post about my Valentine Hoya also known as Sweetheart Hoya. The title of this post may be confusing to some, but please bear with me. You will understand why as you read along.
Hoya obovata var. kerrii, (scientific name), a climbing plant with thick, succulent, perfectly heart-shaped leaves which obviously makes it very popular around this time of year. It comes in all green or variegated. I think even people who do not care much for plants will love this as a gift for valentine's day. Oscar, the Monkey sure loves them.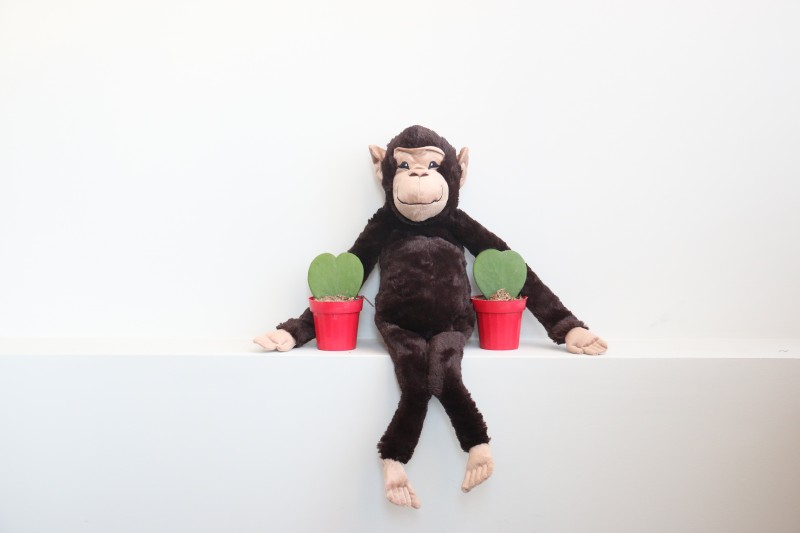 The sweetheart Hoya is commonly sold as a single leaf in a pot and I am yet to see it sold as a whole plant around my parts anyway. Although the single leaf in a pot is so adorable and something of a novelty, it sort of gets a bit boring after a while. I classify it under "The plants That Don't Really Do Anything". You know what I am talking about – That plant you have that you wouldn't be so sure it was alive except for the fact that it is still green. You haven't seen it grow a new leaf in a long while and it seems to have just given up on life. The one you look at and want to donate, only if you knew someone who would take it off your hands so you could make room for more livelier plants. You know that plant, right? Well, the singled leaf version of the lovely Sweetheart Hoya is one of them. If you don't have a plant that fits any of the above description, or have no idea what I'm talking about, then Bravo! You must be choosing your plants very wisely, unlike some of us.  For those readers who may have such a plant, you can get bored pretty quickly with such a plant right? At least with this single leaf Hoya, you can show it off to visitors, who will be impressed that such a thing is found in nature and that you, have this in your collection. Don't get me wrong, the Sweetheart Hoya plant with more than 1 leaf is actually very very beautiful and far from boring. I mean, it is literally giving you love 🙂 with every new leaf. Anyway, as I was saying, I found my super cute singled-leaf plant to be a bit boring until Oscar offered to take a few photos with it. I couldn't help laughing when I took these photographs. I guess you can have some fun with this plant after all.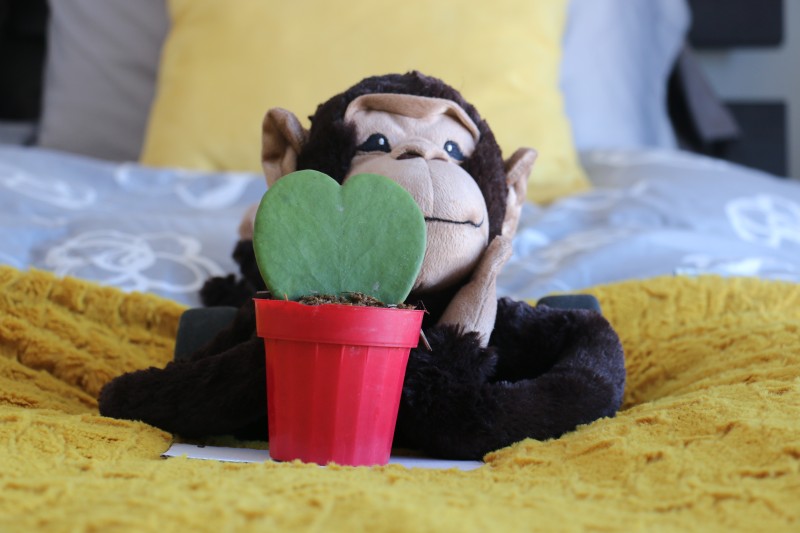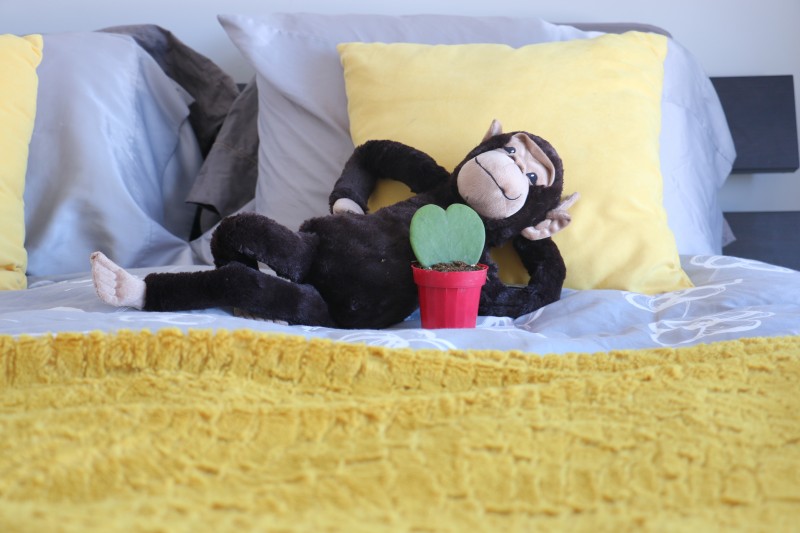 The plus side about the single leaf or full-fledged plant is, you barely have to do anything to it. I water it about twice a month and it takes care of itself. Just like any succulent, make sure the soil is not soggy and let it dry out in between watering. It is pretty hardy as far as succulents go. I am not clear on how long it takes to grow more leaves or if it will at all from a single leaf. Apparently they are very slow-growing by most houseplant standards so I guess I may have to wait a while. Hopefully I'll see some action come spring (fingers crossed).  If I remember correctly, I purchased this sometime in the fall last year. If any of you lovely readers  have been able to get a whole plant from the single leaf, please share how you did it! It really is a big accomplishment as it means you did not give up from the boredom!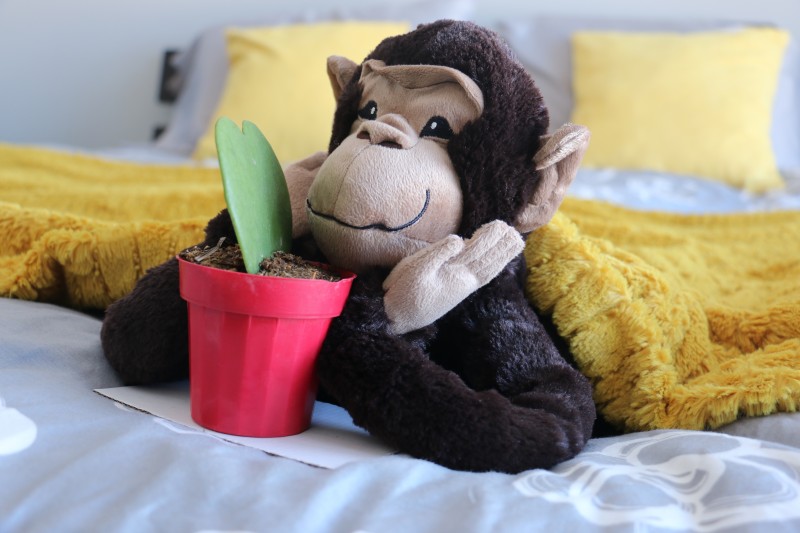 This plant will tolerate direct sunlight or even a brightly lit room with no direct sunlight. A low-lit area may not promote much growth although it will probably thrive. As with most succulents, I don't bother to fertilize. However, a mature plant with many leaves would benefit from some feeding. I think the singled-leaf version will do just fine without it. The flowers it produces are beautiful, of course, as with Hoyas. But for a single leaf, you may have to wait for a long while before you see any flowers. Take a look at the photos of the porcelain, candy/pastry-like flowers below.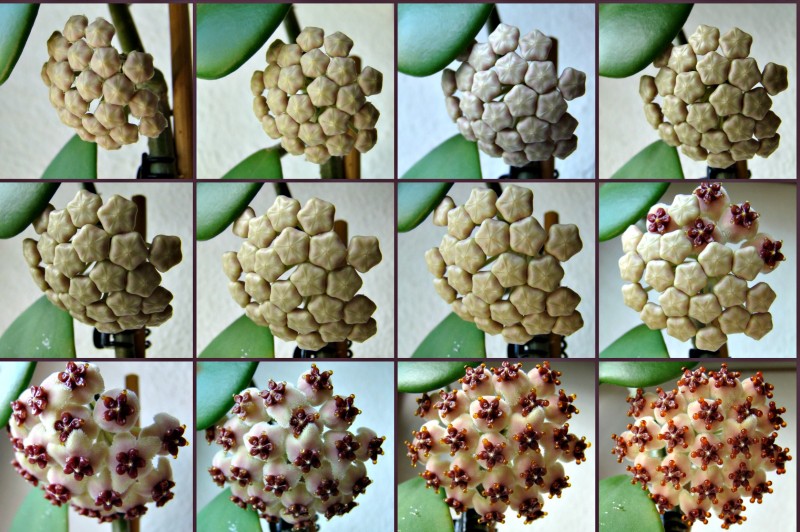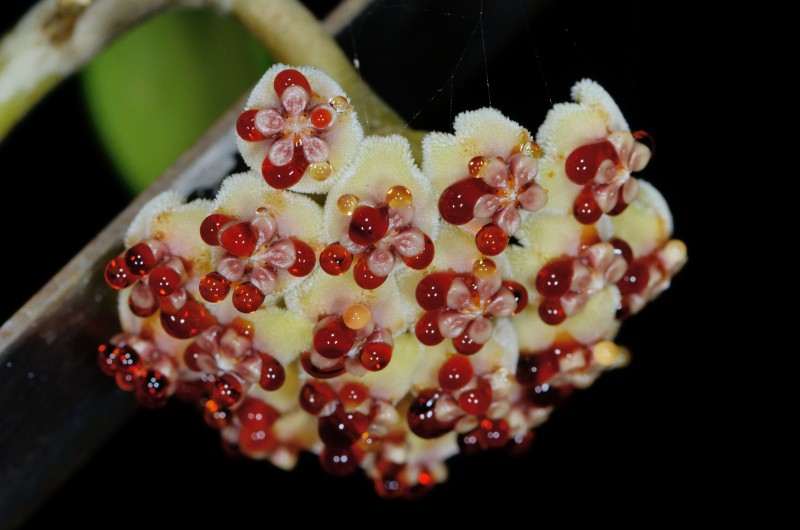 The leaves grow on vines which you can train to climb a trellis when they are young. Once the vines matures, it is hard, but not impossible, to get them to bend to your liking. Propagation can be done by seedlings or stem cuttings (and very humid environment). Since I don't have much plant to start with, I have not tried  either method so any input on how the feasibility and success of either method is gladly welcome. What about a single leaf? Will it eventually grow vines?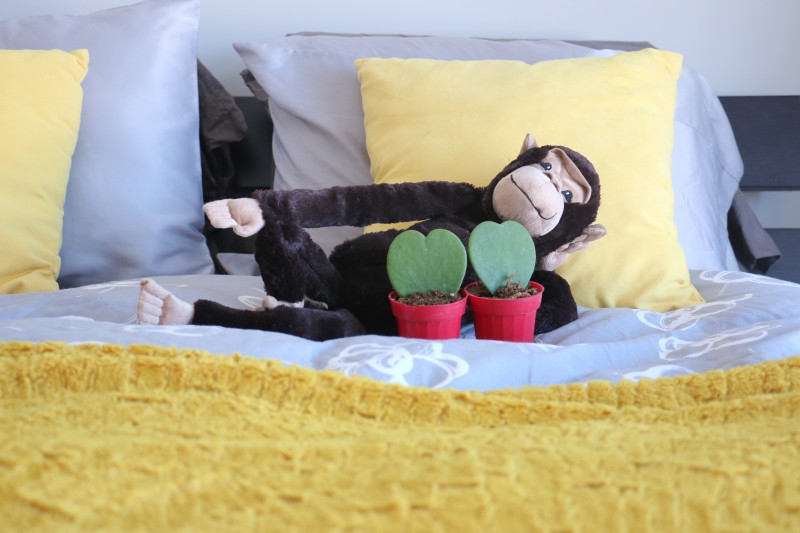 Any one who knows whether or not a new plant can come out of a single leafed-plant is also welcome to impart some knowledge by commenting below!

Related
Barbara
Hi, I'm Barbara and I'm a little obsessed with house plants. I share my house plant adventures in the hopes of inspiring you to continue to enjoy the greens in your home. And if you have no plants (yet!) I hope this blog inspires you to add some green to your home. So go on! Try it! I think you might quite like it. And who knows? You may end up being … obsessed too.
Related